The FIAT® 500e is available only in California at select FIAT Studios.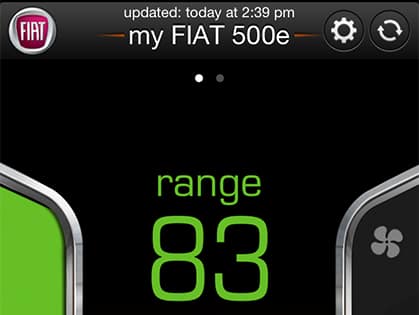 FIAT® ACCESS
The FIAT® Access mobile app helps keep you connected to your FIAT® 500e. You can access a range of battery-related features so you can confidently go where you want, when you want — and easily recharge when it's time to power up. You can also activate modern conveniences like remote climate control. FIAT Access is the easy-to-use complement to your eco-sexy ride.
FIAT Access features:
Monitor battery charge level
Display available driving distance
Check if vehicle is currently charging
Locate nearby charging stations
Schedule a charge
Receive notifications for charging
Precondition vehicle remotely
Lock and unlock doors
Locate nearby points of interest
To use the FIAT Access mobile app with your FIAT 500e, you must first register with FIAT Access and fulfill the minimum subscription requirements. By using FIAT Access, you agree to the FIAT Access Terms of Service, which are available at: fiataccess.com/termsandconditions
FIAT Access Services are operable for 36 months from the first retail sale. Please see fiataccess.com for terms and conditions related to the end of the operability period.The FIAT® 500e is available only in California at select FIAT Studios.
Screen Shots
FEATURES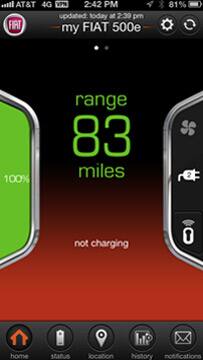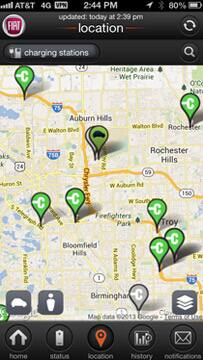 VEHICLE INFORMATION
FIAT® Access keeps you in the know when you're on the go. You can monitor your battery charge level, check your available driving distance and receive notifications when your vehicle needs a charge.
Locate Charging Stations
FIAT® Access lets you quickly locate nearby charging stations when your FIAT 500e needs an eco-friendly power boost.